#
Case study Art Econ: Virtual Tours for Two Talent-Packed Schools
What do art and economics have in common? More than it may seem. The Art Econ group of middle and high vocational schools connects two seemingly opposite fields. The meaningfulness of their approach is confirmed by a number of successful graduates. We have also demonstrated a similar amount of talent in creating virtual tours.
Published 10. 3. 2023
Creative virtual tour for a creative school
Art Econ enables the study of a wide range of fields in Prague and Prostějov. Both cities have a secondary and higher vocational school within one building, although their offerings differ, they are interconnected organizationally and ideologically.
Therefore, we have developed two separate tours, which we have harmonized together with the same design and layout of the user interface. Each of the tours is divided into logical circuits so that no visitor gets lost in them. In addition, it also includes a clear list of fields with representative icons. If a student is interested in something, clicking will take them to the school's pages with more information.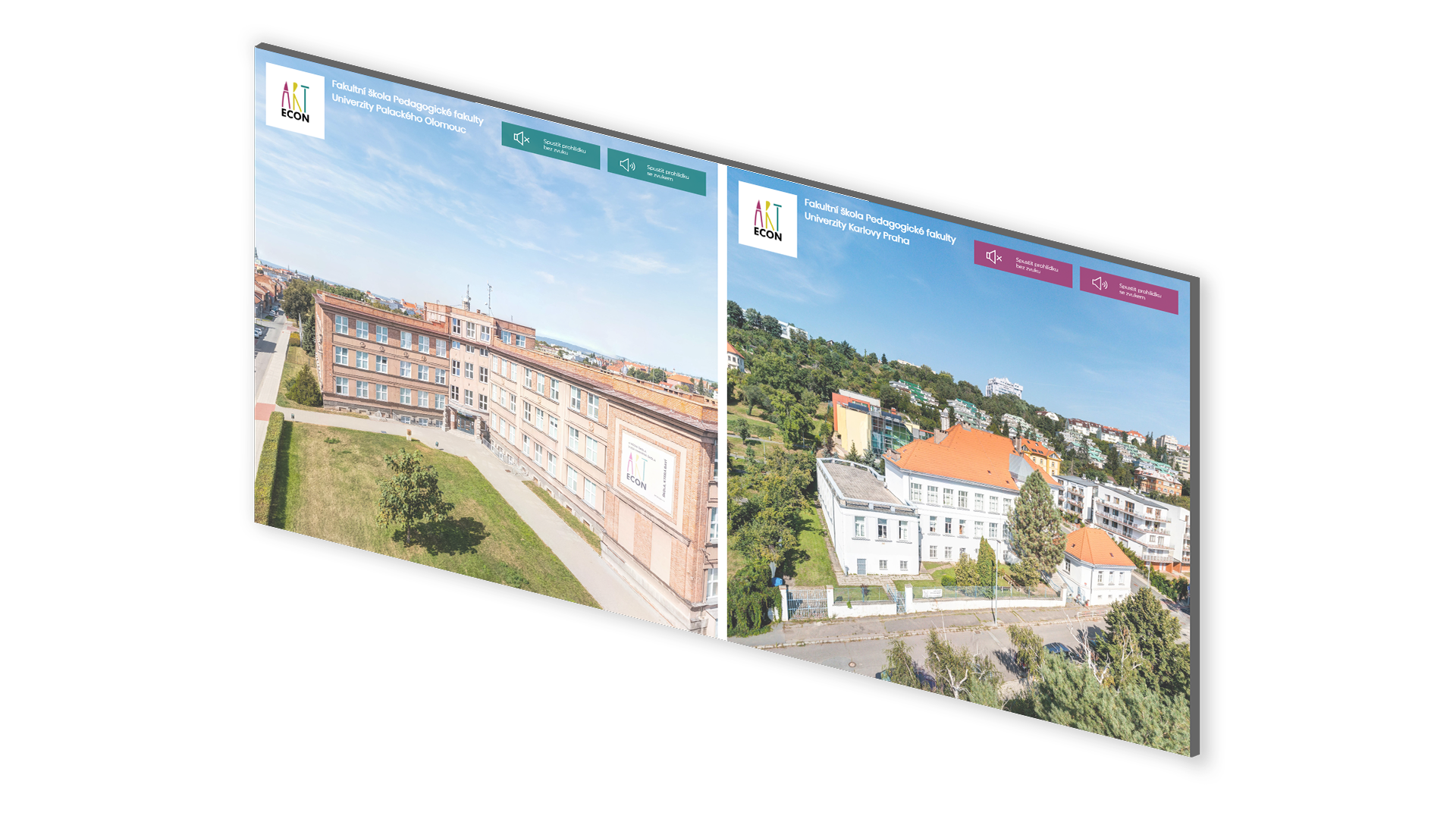 Sharing facts and everyday atmosphere
Virtual school tours help schools attract new applicants, and therefore Art Econ has used all our possibilities to include various infobodies in the tours - from simple textual information through links to pages of individual fields to videos and galleries.
Each type of infobody has its icon, so it is clear at first glance what information it conceals. A visitor walking through the corridor can thus click on and browse through the artworks of students hanging on the wall in the gallery. Or take a look inside the art studio or print workshop to learn more about the specific equipment.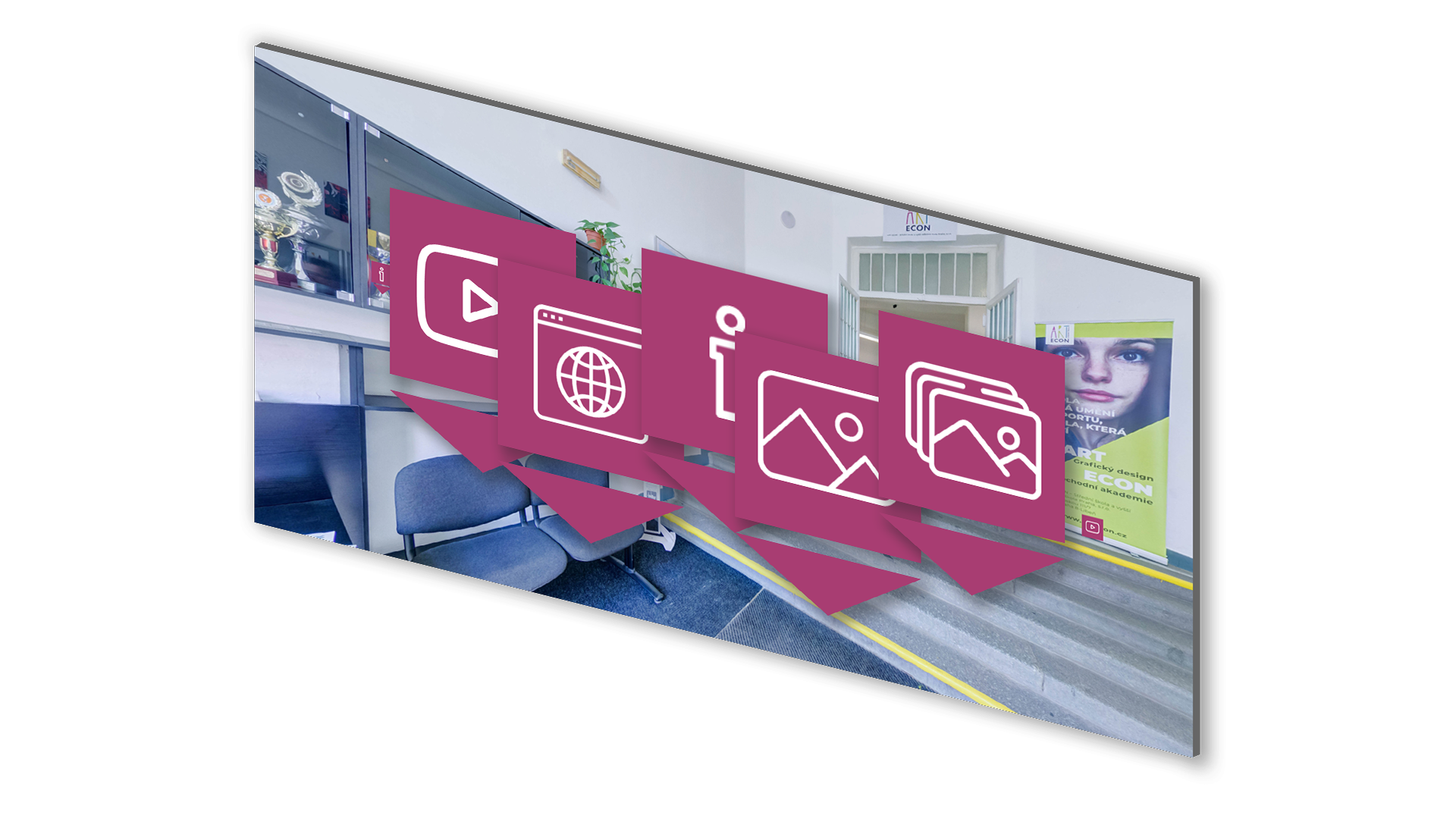 There are also photos of students directly from teaching in the galleries, taken by our professional photographer. Future graphic designers and photographers could thus try what it's like to be on the other side of the lens.
Virtual tour with a human perspective
We want every visitor to feel welcome and easily access the necessary information. Therefore, two professional speakers accompany the tour, creating a feeling of a personal school tour.
After all, people make up the face of each school - from students through teachers to auxiliary staff. In addition to school premises and study information, visitors will meet, for example, a favorite receptionist or a teacher of computer technology. And in individual infobodies, they will find photos of students from practical teaching, such as the mentioned photography studio.
Decision-making based on data
At the client's request, we added Google Analytics tracking to the tour. With just a few clicks, they have a detailed overview of visitor traffic and sources. They can find out how long the visitor stayed on the virtual tour or whether they are looking at other fields of study. They can thus evaluate whether interest in studying is growing or declining and what potential students are most interested in this year.
Virtual building tour in the best light
One of our clients had a beautiful terrace with an older concrete railing at one of their schools. The railing repairs were planned for later, but it didn't make sense to postpone the entire filming of the tour because of it. So, we agreed to use Photoshop to virtually reconstruct the railing, so that the tour reflected the best possible state of the building.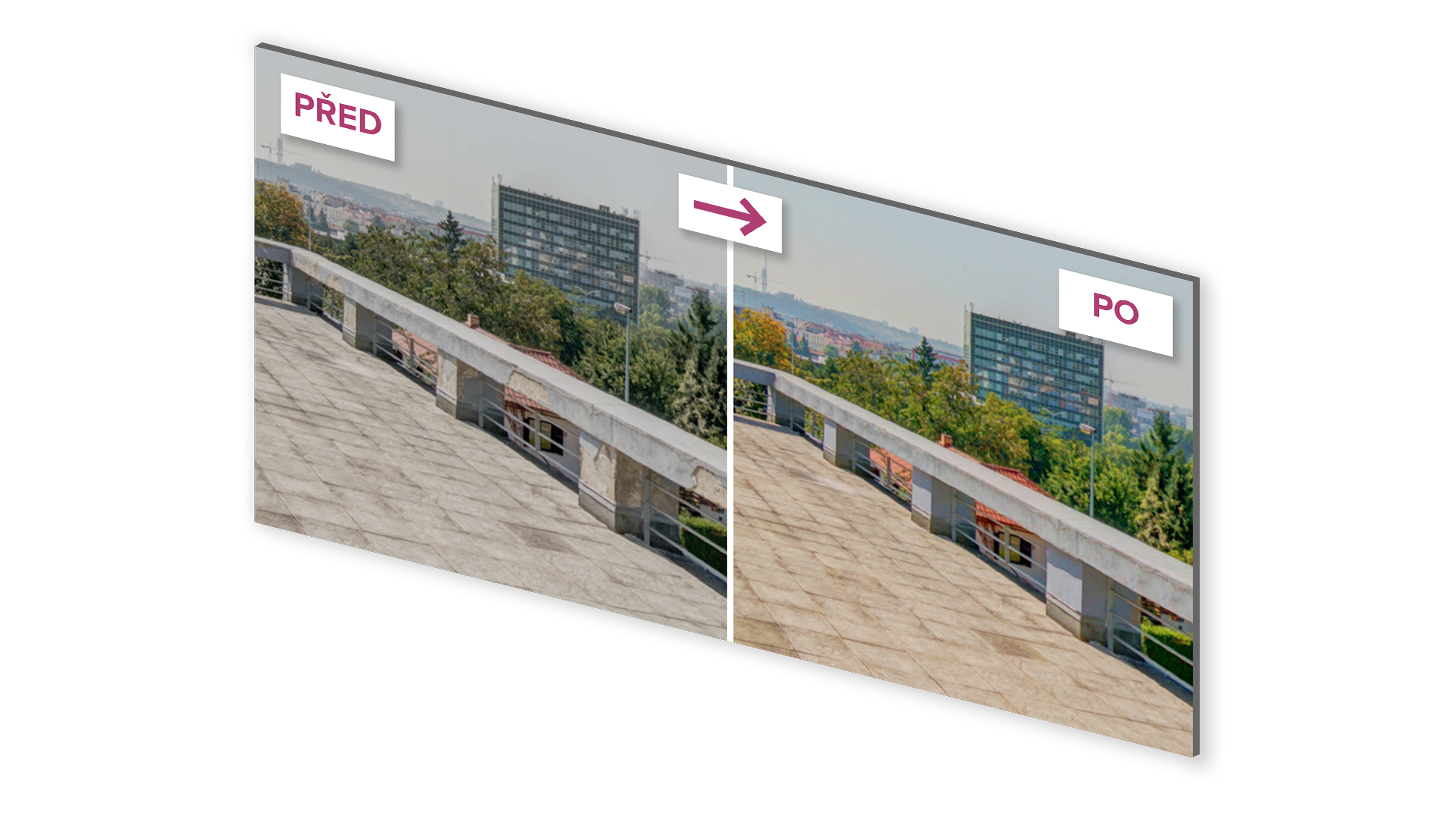 Virtual open house all year round
We know that a virtual tour is a useful tool for attracting new students to the first years of school. They have a great opportunity to see what the school offers before deciding to visit. Virtual open house days, therefore, run all year round.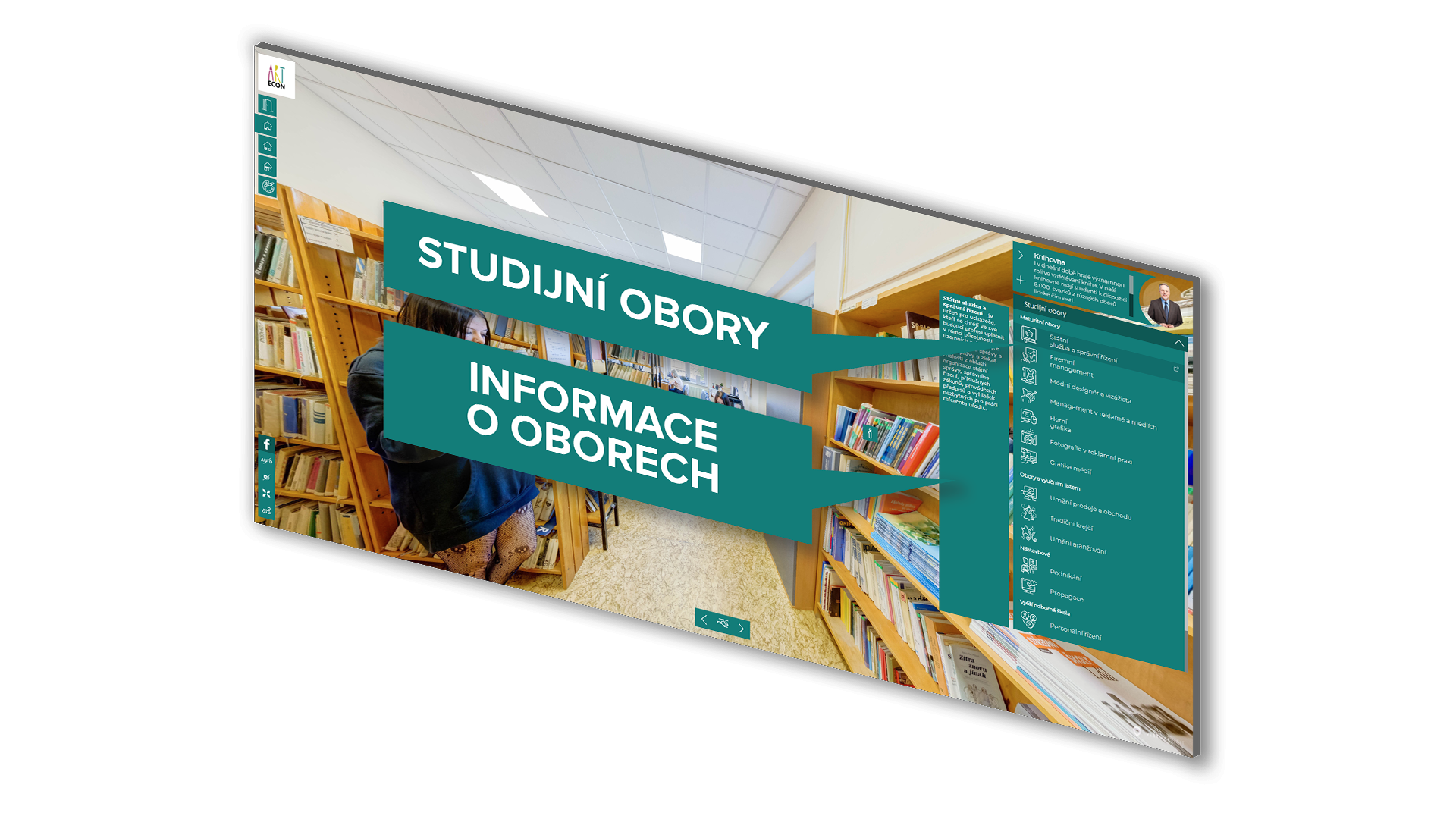 "We are very satisfied with the virtual tour. The feedback is only positive. We also continue to use photos from the backstage of the filming. Overall, we are very satisfied."

David Klouček Representative of Art Econ Prague
To make your school visible
A virtual tour serves as an excellent marketing tool. However, to reach all your future study prospects, it is good to support it with a social media campaign and also place it on your website.
We, together with Art Econ and their marketing agency, managed to fulfill the high demands for creativity and project economics. However, if you don't have your own marketing agency, one of our experienced developers or marketing specialists will be happy to help you with a social media campaign, website editing, or redesign.